The Texas Book Of The Dead Life After Death
By Dick Browning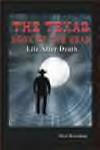 The Texas Book Of The Dead offers insight into several questions that most of us have asked ourselves throughout the course of our life. Questions like: Does the soul live on after bodily death? If so, what is the nature of the afterlife? If heaven is so nice, why do we fight so hard to stay in our earthly body? And, what evidence supports the answers to these questions? Man has always pondered what the afterlife is like. The ancient Egyptians wrote what has come down to us as the EGYPTIAN BOOK OF THE DEAD. The Tibetans wrote THE TIBETAN BOOK OF THE DEAD. Now author Dick Browning has compiled a consensus of modern reports from the other side and titled it, THE TEXAS BOOK OF THE DEAD.
Available at
Reviewer: Joyce George (Athens, TX USA) January 27, 2006
Have you ever been paralyzed with fear of "something" in the darkness of your room but you just couldn't get the courage to turn on the light and look at it? Sounds silly and irrational, doesn't it? We have, however, all had this experience at some time in our life. By writing The Texas Book of the Dead, Dick Browning may have just gotten up and turned on that light for those of us who have a dreadful dark fear of death and dying and are afraid to look at it. He gives us a collection of the personal stories of many ordinary people just like ourselves who have had experiences that many of us would see as extraordinary because they demonstrate an accessible relationship between those of us still living a physical existence in a human body and those we know to have passed out of their human body...what we call death. We face this "death" all around us every day whether it is the passing of a beloved family member, friend, or just watching a TV program depicting human death. Much of the fear, pain, and guilt that we live with regarding death could be alleviated if we could just look at this "event" with a new and healthier perspective. The Texas Book of the Dead is a quick read which addresses many of our questions about life, death, and dying. Perhaps it can turn on a little light for you and take away the paralyzing fear that keeps you from fully living your life now because of your fears surrounding death and dying. Presented with respect, humor, and insight, this little book gives one confirmation that life goes on, and death is just a change that we can live with.